Whether you're starting to do your holiday shopping, going into the office, traveling or even just staying put, it's never been more important to take precautions.
Out and About?
Norwex has some great new products and popular favorites that work to help you and your family stay safer on the go.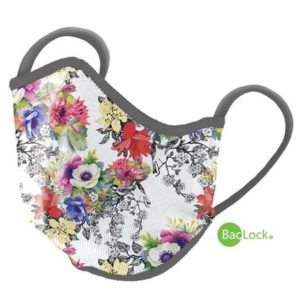 The Reusable Face Mask with BacLock®* comes in a variety of patterns, all of which are proven to filter 81% of 0.1 micron-sized particles. Plus they're comfortable, breathable and last wash after wash.
Being reusable, they also help cut down on the billions of masks and gloves being disposed of each month, littering the earth and already massively polluting our oceans.
It's important to have an option designed for smaller faces that happens to look great, too.With adult and child sizes, everyone can get a great fit!
Our masks feature our amazing BacLock* antibacterial agent, which reduces the growth of acne-causing bacteria in the cloth by more than 99%, making them ideal for acne-prone skin.
Add the new duo compartment, zippered Wristlet for a handy way to keep clean and used masks separate when you're out and about.
DID YOU KNOW?
Norwex Microfiber removes up to 99% of bacteria from a surface using only water when following the proper care and use instructions. That's why it's smart to keep an EnviroCloth® or our Travel Pack (with five mini-sized EnviroCloths) on hand—they're perfect for wiping down desks, tables, airplane seats and more, without using harmful chemicals. Both are STANDARD 100 by OEKO-TEX® certified, ensuring that every component—from yarn and thread to dye and trim—has been tested and found to be free of harmful substances. They also feature our BacLock* micro silver antibacterial agent with self-cleansing properties that help the cloths stay cleaner and fresher longer.* For added convenience, pair them with Travel Bag.
Our Timeless Natural Hand Cleaner contains organic, biodegradable ingredients with astringent qualities to thoroughly clean hands without water—no rinsing required. Organic Aloe Vera, Olive Oil and gluten-free Wheat Germ Oil extract also help moisturize, nourish and condition your skin to keep your hands feeling soft and hydrated.
Another favorite is our Optic Scarf. Did you know that cell phones can contain ten times the bacteria found on a toilet seat? Everyone needs an Optic Scarf at their fingertips to clean screens often and thoroughly. The Tech Cleaning Cloth and Case is a great choice, too. The handy cloths won't damage screens, and they're easy to take with you anywhere.
Staying In?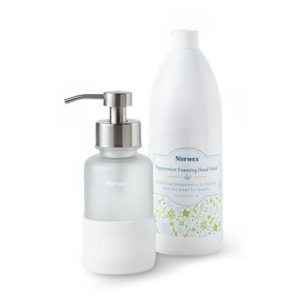 Even if you're not venturing out much just yet, you still want to make sure your hands stay as clean as possible at home.
Start by placing a Forever Clean Hand Wash Set in your kitchen and bath. The Foaming Hand Wash in your choice of Peppermint or Unscented will hydrate, soothe and nourish your skin as it thoroughly cleans without the chemicals of other products. And the chic Forever Bottle with Foaming Hand Wash Dispenser is so beautiful, your family might just be compelled to wash their hands more often!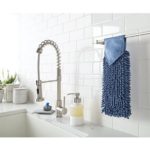 Place one of our beautiful and oh-so-touchable Chenille Hand Towels by your sinks too. The soft, inviting chenille microfiber makes family and guests want to dry their hands, which is also important: According to the CDC, germs can be transferred more easily to and from wet hands. As an added bonus, BacLock* offers continuous protection against microbes and odors within the towel.
So whether you're out and about or sticking close to home, keep Norwex products handy and stay safer!
*BacLock is our exclusive antibacterial agent for self-cleansing purposes only. The agent is solely designed to inhibit bacterial odor, mold and/or mildew growth within the product.